Treadmill Buying Guide 2023: Getting a fit body is everyone's goal but most of them do not know how to achieve it. There are many of home gym equipment on the market but buying a treadmill is a smart choice as it offers a solution for when you need to move and can't get outside. Treadmills are can help you lose weight sensibly, incorporate fitness into your daily life, and enjoy exercise from the comfort of your home regardless of your convenient time and weather conditions. 
But before making any purchasing decisions taking a buying guide is always a wise choice to bring the value of money products. A complete buying guide will give you all the information about the treadmills like how they work, which features will be beneficial for your requirements, and which one is the best treadmill in India according to your budget range. 
Treadmill Buying Guide 2023: How To Choose The Best Treadmill
Here we are giving you a step-by-step buying guide to cover what features to look for when browsing treadmills options and how you can save time and money along the way.
1. Evaluate Workout Space and Treadmill Size
Before you shop for a treadmill for home make sure you have enough space to install your treadmill or measure your space to find out the best treadmill size. The standard treadmill for home is about 7 feet long and 3 feet wide. Although there are many folding treadmills on the market which are significantly shorter, they still require lots of room when they're in use.
2. Decide Your Budget
The best point to deciding on a treadmill model is what amount you are willing to spend on your new treadmill machine. Your budget will ease your work to narrow down options using your convenient, price-based roundups. 
But if you expect heavy uses and high demands like frequent top-speed intervals and incline training, we will recommend spending more to buy a high-performance treadmill for home.
3. Consider Motor Power 
The motor power of any treadmill machine depends upon your body weight and the type of workout you plan to undertake. For those weighing up to 90 kg, the recommended motor power is: 
Running: At least 3.0 CHP
Jogging: 2.5 CHP or higher
Walking: 2.0 CHP or higher
Moreover, if you weigh over 90 kg, we suggest you add another 0.5 CHP so that your treadmill machine has more power to spare.
4. Incline Of Treadmill Machine
Most treadmill machines can be inclined upto 20%. The type of incline depends on the price tag of the product. The low-budget treadmills offer manual incline and other at good price gives you a motorized treadmill. The incline feature in any treadmill targets different muscles in your body that effectively gain more muscle mass. 
5. Weight Capacity 
When it comes to choosing a treadmill for home, weight is the most important factor to consider. If you are under 100 to 150 KGs, our buying guide recommends you choose a treadmill machine that can bear at least 20 kilograms more than your body weight. This buffer will ensure that the motor does not get strained. But if your weight is above this scale, choose a high-end treadmill for home use. 
Treadmill Buying Guide 2023: Our Recommendations
Here we have covered budget friendly to premium treadmill options to fulfill your all home workout needs. 
PowerMax Fitness MFT-410 Manual Treadmill – 52% off
PowerMax fitness MFT-410 is a four-in multifunctional manual treadmill machine, one can jog, step up, twist, and can do push up on. 
Along with this, it has 3 levels of manual incline with high quality and strong steel frame. It is a lightweight, durable, compact, and easy-to-store machine. PowerMax Treadmill Price: Rs 13,499. 
Lifelong FitPro LLTM09 Manual Motorized Treadmill – 58% off
Lifelong FitPro treadmill for home has wheels for easy transportation, a 90-degree foldable design, and a powerful noiseless motor. 
These durable running machines are coming with speakers with AUX and USB input, and 12 preset workout programs to set variable exercise modes for weight loss and endurance training. The maximum speed of 12km/hr for extensive workouts at home. Lifelong FitPro Treadmill Price: Rs 17,299.
SPARNOD FITNESS Motorized Indoor Treadmill – 36% off
SPARNOD FITNESS Treadmill's foldable design not only helps you easily assemble the treadmill but also helps you store or move it into small spaces, perfect for home use. 
This treadmill for home is equipped with one LED display at the front allowing you to easily monitor your Speed, Distance, Time, and Calories Wheels for easy transportation. SPARNOD Treadmill Price: Rs 38,599. 
INALSA FITTYFY Manual Treadmill FFTM 410M- 5 in 1 – 49% off
INALSA FITTYFY folding treadmill machine is built in with a multi-functional LCD.
It can track your performance including time, calories, heart rate, speed, distance, and steps. promising a superior and effective home treadmill workout. FITTYFY Treadmill Price: Rs 16,590. 
Cockatoo CTM-05 1.5 HP – 2HP Peak DC Motorized Treadmill – 51% off
Cockatoo motorized treadmills are effectively designed for both intense running and endurance-driven walking sessions.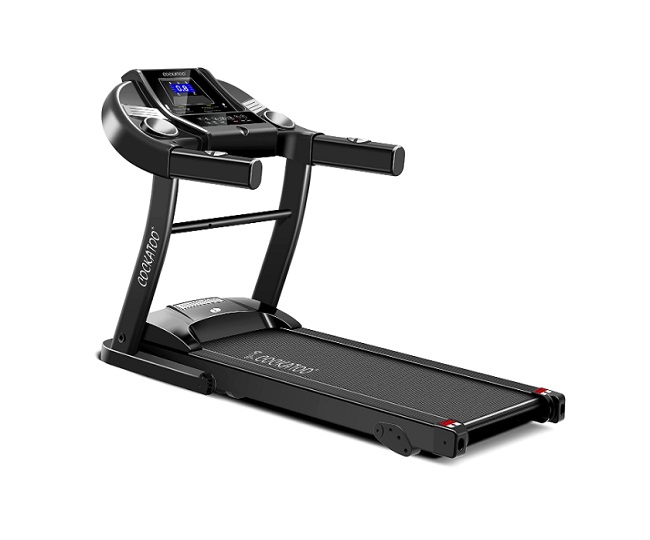 This treadmill machine has a weight capacity of 90 kg and a sleek and stylish finish to make your workout sessions a lot more convenient and easier. Cockatoo Treadmill Price: Rs 18,419. 
Treadmill Buying Guide 2023: Conclusion 
In this treadmill buying guide, we have provided you tips on how to buy a treadmill for home, including what factors to consider and what specifications runners should look for to get a high-end and valuable treadmill machine. 
Treadmill Buying Guide 2023: FAQ
1. Is A treadmill good for Weight Loss?
As a form of cardio exercise, using a treadmill is an excellent way of burning calories and losing weight.
2. What should I look for when buying a treadmill?
A few factors to consider when shopping for a treadmill for home are budget, space, size, and workout needs.
3. What are the best treadmill brands?
Some of the most popular and highly rated treadmill brands in the market are PowerMax, Lifelong, and more. 
4. What are the specifications of a good treadmill?
A good treadmill machine will be comfortable, quiet, easy to use, and last a long time.
Disclaimer: Jagran's journalists were not involved in the production of this article. The prices mentioned here are subject to change with respect to Amazon.